All the professional Karaoke tools you need on your Mac, in one application.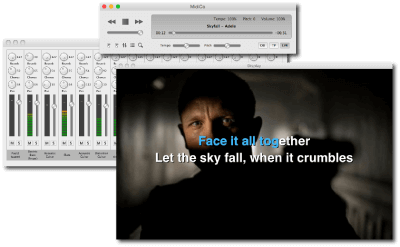 Karaoke Player
Simple, powerfull and intuitive user interface for immediate use. Organize and play the most popular karaoke file formats including: MDC (MidiCo File Format), MID, KAR, MP3 (SYLT-LYR), CDG, CDG Zipped and Karaoke Movie.
Midi and Kar files with superior sound quality. With the DLS and SoundFont tecnology you can hear your music exactly the way you intended.
Show All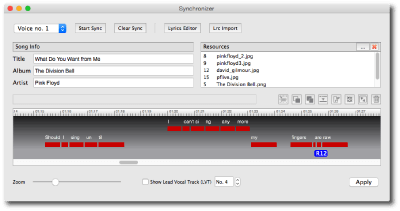 Karaoke Maker
MidiCo is designed to be as easy-to-use as possible. You can synchronize, re-synchronize or modify text's synchronization in few minutes.
Advanced options allow you to insert credits screen, change font, display images, and more.
You can also synchronize your midi using the Lead Vocals Track.
Show All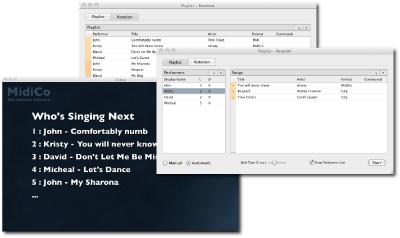 Live Show
Playlist Manager with automatic performers rotation keeps singers queue in order in your live show.
Complete database management for songs, performers, fovourite performer's songs with advanced search functions.
No more "Who's next?" or "When will I sing?". The answer, if you want, will be on display at the end of each song.
Show All